Overview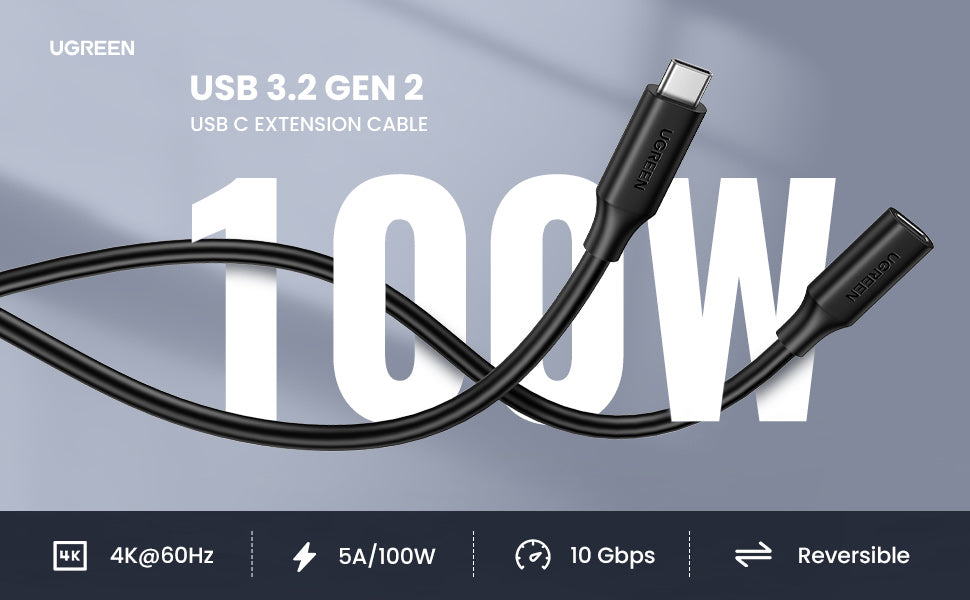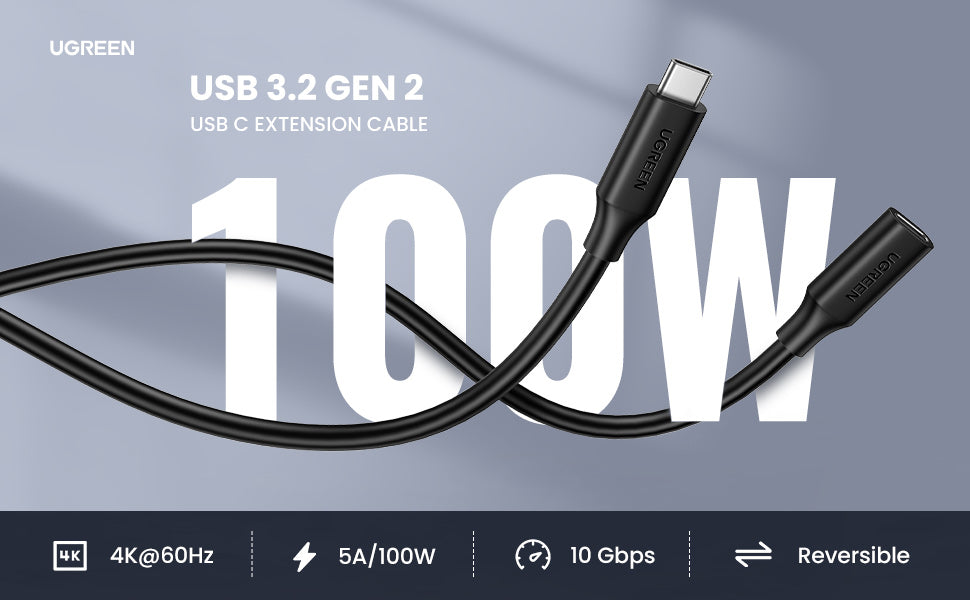 Super Speed Charging and Syncing
Support fast charging at MAX 20V 3A current and 5Gbps data transfer. Less time for waiting, more time for entertaining.(This product is compatible with thunderbolt 3, but the transfer speed is limited to Max 5Gbps.)

Support 4k Video And Audio Transfer
Support up to 3840*2160 60HZ 4K video signal transferring for the connection between your MacBook to another monitor or display with USB C interface. (Please make sure both your input laptop and output monitor type c ports support video in and out function(Thunderbolt 3).

Protect C-Type Port of Devices
The USB C extender adapter can protect the USB C port of you devices from being worn off by frequent plugging and unplugging.

Compatible Devices(Partial List)
For Nintendo Switch, MacBook 2016, 2017, USB-C Apple Digital AV Multiport Adapter
For Samsung Galaxy Note 8, S8, S8 Plus, LG G6, G5, V30, V20, Samsung Dex Dock, Nexus 5X, 6P
For Google Chrombook Pixel, Dell XPS 13 15,Inspiron 5000,Inspiron 7000, Lenovo ThinkPad X270, HP Envy x360,Pavilion x360,Spectre x360

Note
1. We suggest a total length within 5ft for both your usb c cable and this extension cable to achieve best charging and syncing speed performance.
2. When using video function, please make sure both your input and output devices support video in and out and with thunderbolt 3 port; Besides MAX cable total length is limited to 6ft.

Package Contents
1 x USB C Extension Cable
Specs
| | |
| --- | --- |
| SKU | 40574 |
| Package Dimensions | 5.31 x 7.68 x 0.39 inches |
| Item Weight | 1.02 Ounces |
| Connector Type | USB Type C |
| Cable Type | USB |
Ugreen USB C Extension Cable
$9.99
1.5FT / US
Super Speed Charging and Syncing

Support fast charging at MAX 20V 3A current and 5Gbps data transfer. Less time for waiting, more time for entertaining.(This product is compatible with thunderbolt 3, but the transfer speed is limited to Max 5Gbps.)

SUPPORT 4K VIDEO AND AUDIO TRANSFER

Support up to 3840*2160 60HZ 4K video signal transferring for the connection between your MacBook to another monitor or display with USB C interface. (Please make sure both your input laptop and output monitor type c ports support video in and out function(Thunderbolt 3).

Protect C-Type Port of Devices

The USB C extender adapter can protect the USB C port of you devices from being worn off by frequent plugging and unplugging.

Compatible Devices(Partial List)

For Nintendo Switch, MacBook 2016, 2017, USB-C Apple Digital AV Multiport Adapter
For Samsung Galaxy Note 8, S8, S8 Plus, LG G6, G5, V30, V20, Samsung Dex Dock, Nexus 5X, 6P
For Google Chrombook Pixel, Dell XPS 13 15,Inspiron 5000,Inspiron 7000, Lenovo ThinkPad X270, HP Envy x360,Pavilion x360,Spectre x360
Note

1. We suggest a total length within 5ft for both your usb c cable and this extension cable to achieve best charging and syncing speed performance.
2. When using video function, please make sure both your input and output devices support video in and out and with thunderbolt 3 port; Besides MAX cable total length is limited to 6ft.

Package Contents

1 x USB C Extension Cable

| SKU | 40574 |
| --- | --- |
| Connector | USB C Male & Female |
| Charging Speed | 20V/3A (Max.) |
| Data Transfer | 5Gbps (Max.) |
| Length | 0.5M |
| EAN/UPC | 6957303845743 |
Liquid error (sections/pf-86d29d24.liquid line 67): Could not find asset snippets/askQuestion.liquid

Ask A Question
Liquid error (sections/pf-86d29d24.liquid line 116): Cannot render sections inside sections